<![if !vml]>
<![endif]>
<![if !vml]>
<![endif]>
<![if !vml]>
<![endif]>
<![if !vml]>
<![endif]>
<![if !vml]>
<![endif]>
<![if !vml]>
<![endif]>
<![if !vml]>
<![endif]>

<![if !supportLineBreakNewLine]>
<![endif]>
<![if !vml]>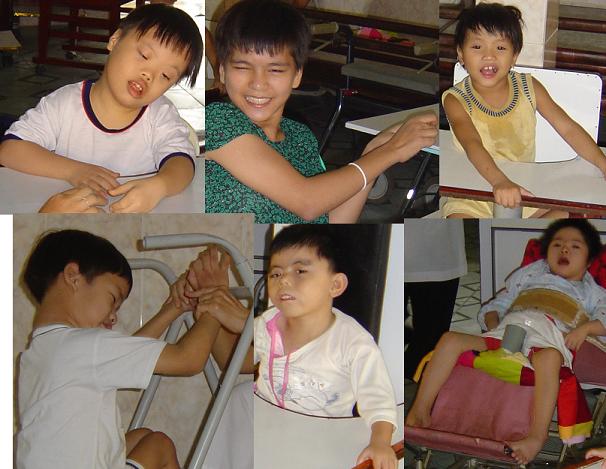 <![endif]>
The orphanage shelters 17 mental disabled between 2 and 17 years old.

 
These were the most hopeless who finally gained some attention.
The first were sheltered in 1996 with a state license. Most of them where nothing more than a heap of flesh with stiff hands and feet and lifeless, generally victims of the war's dioxin.
After only one year of care, re-education, nutrition and above all affection, these children came back to life. Some of them can even can walk, pronounce words, speak or produce sounds.
By the end of 2004, the disabled department sheltered 4 disabled children who permanently live at the orphanage. Eleven other  children join the orphanage on a daily basis and go back home daily.
<![if !vml]><![endif]>

This child suffers from a major handicap affecting his mobility. Sisters trained him with easy exercises in the beginning, and systematically improved his ability to use his limbs. 

Have a look at the picture on the left. The boy uses his foot rather than his hand to grab his mug and bring it to his mouth.

Another exercise: put on his glasses …, with his foot.

Perhaps one day, he will gain more mobility, thanks to his own courage, the training and the encouragement of the specialised nurse.

The hope of seeing him walking one day is very thin however, but the recorded improvements thanks to the patience and the determination of the sisters prove that work, patience and life lead to the best results.

<![if !vml]><![endif]>